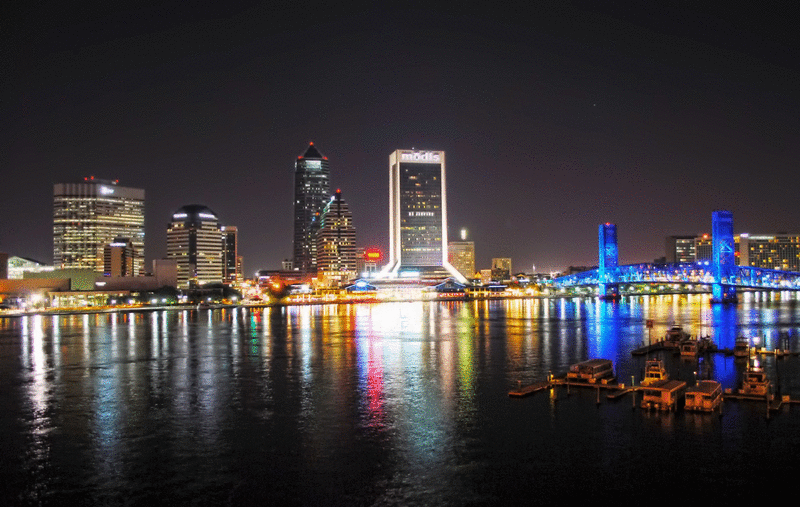 When I was looking into the possibility of moving to Jacksonville, I relied on
Sperling's Best Places
. The overall impression portrayed on this website are positives of an attractive downtown, a strong economy, and arts and culture; the negatives include the crime rate, growth and sprawl, and long commutes. The stats were useful, but the comments were kind of disheartening. I thought it might be useful to sift back through the comments about Jax so that someone also thinking about moving here can read the short version of praises and pot shots. I can't vouch for the accuracy of all the quotes, but I can give some perspective to some of them.
Jose calls it an "overcrowded military town," saying:
The young military family are targets. Sad place. Beware!
I know that many of the young military families live near me, but I also know that I get about $500 more rent per month for my house in Milwaukee than a comparable house around here. It's all about location, and I can't blame military families for wanting to rent nice homes while they're here. I do feel bad if anyone is taking advantage.
J. from Avondale was fairly negative about Jacksonville, even though he lives in one of the most expensive places in town. Says his area is nice, but:
Duval County Public Schools are terrible, and even the much lauded magnet program isn't particularly good
We're hoping the magnet high schools are decent, but I do worry about this, just as we did in Milwaukee, with its magnet schools. I am fairly concerned about this one, but I have three more years of
private schools
for my kids to figure it out.
The city does have many public parks, but they are poorly maintained.
I'd have to
agree
in general. Granted, Milwaukee's parks were very good, so I don't have a lot of perspective. A lot of "Deed Restricted Communities" over near me have their own play areas, but good parks shouldn't really be up to each subdivision to figure out.
Don't be fooled by the low housing prices here. Wages are low and utilities are high.
We found that houses weren't as cheap as we first thought, at least once we knew the exact location we wanted.
Utilities
are higher than they should be (where's the cheap solar power?), but they are on par with other places I've lived. Some wages are low, so I wouldn't really move here hoping to find the work you need to survive.
The ignorance here is astounding. Astounding. But it's coupled with pretension, which is even more annoying.
I love this line. I can't say I've experienced either ignorance or pretension to a larger degree than anywhere else on earth, but I've seen some real potential here. I suppose someone living in Avondale might see the pretentiousness. I probably get a bit more of the ignorance where I live.
The Landing is dirty and depressing.
Yes, it is. Sorry, but there's just no reason to go there.
The racism and sexism here will break your heart. Black neighborhoods are some of the least cared for by the city.
The problem with this statement is it's coming from someone who benefits from the system. Would I want the city to spend more money on someone else's neighborhood than my own, given limited resources? Nope. I pay more than twice the Jax average in
property taxes
, pay an HOA for a pool and lackluster playset, and pay for school, so no, I don't want the city to rebuild an area with $20,000 houses for the slumlords. It's not really about race or sex in this case. It's about economics, and if Jacksonville doesn't do enough to keep people from Avondale happy and safe, that's a lot of $500,000+ homeowners moving to St. Johns County.
Shelyna gave the city 3/5, so that's a step up. She says:
There's also a lot of sporting events and art exhibits and festivals downtown because Jacksonville is full of art and culture. It's also full of pan handlers and dope and heroin addicts on almost every corner.
I love that--full of art and culture. And the negative, too. I have not seen too many of the art and culture or the addicts, but I suppose both go with the territory of being a big city. I was always surprised at the number of homeless folks in Milwaukee. The weather must be much nicer here to live outside, so I guess it's kind of expected. We've got the
Jags
and some
minor league
teams, including minor league college sports, so it's below average sports for a city of this size. Then again, I could care less.
We have several Farmer's Markets and Whole Foods Health Stores and a couple of vegan restaurants and like 200 fitness clubs and gyms (well alot of them) so if you're into health you'll probably like it here.
I agree that there are fitness clubs everywhere. I guess the beach makes people think they need that. The main farmers market is more of a wholesale thing and there's only one Whole Foods, but there's a Trader Joe's and some Earth Fares around, as well as a Lucky's Market, so you can find some healthier, expensive options. Then again, the Publix chain that's well-loved is also expensive--a nice experience, but not discount groceries.
Marta sums Jacksonville up in a way that one normally does for most American cities, with a twist:
Jacksonville is like any other city in the world!! There is racism everywhere in America, bad n good people as well as good and bad neighborhoods [...]

If you like a big city with a small town feel, you'll love it here!!
Yes, it's more complicated than just this, and it's really the details that make a city more liveable. From what I can tell, Jacksonville suffers a bit compared to other cities when it comes to these more refined elements, but it is, in essence, like every big city. My wife always jokes that she can't tell if it's a small town pretending to be a big city or a big city that wants desperately to be a small town. But there is a small town feel in this vast city.
Pack likes many elements of the city, but he/she has a warning that I think is fairly adept:
Eleven years ago, consultants from the University of North Carolina's Kenan School of Business recommended that Jacksonville adopt a sustainability model: pronto. Sadly, this recommendation has been completely disregarded as the city has kow-towed to developers and big businesses. It won't be long before there is no un-built property and the roads become even more choked with traffic congestion.
I've read all there is to read about the urban planning that has been done here, and I have seen it thrown out the window in order to build more sprawl instead of maintaining and reclaiming. There's all kinds of open land, but the roads are limited because of waterways and past development, so there is a good chance of worse traffic in the future.
Dia agrees about traffic:
Because of the size of the city - biggest landmass city in the US, if you didn't know - you can pick a direction, drive for an hour, and still be in Jacksonville. Or, between the hours of 6a-10a or 3p-7p, pick a direction, drive for an hour and only go about six miles because traffic is gridlocked.
It is pretty crazy that I can drive 45 minutes with no traffic to play a baseball game over on the west side of town, and taking my kids down to play soccer or basketball games a few miles away at rush hour will take 20 minutes. The city is vast (biggest in lower 48) and there is no grid to speak of in certain parts of town, so we're all stuck on the same six roads.
Susan wasn't sure about the schools and crime, but she also had some positives:
I love this town. I live on the West side, with great houses at low cost and plenty of trees. Jacksonville has the largest park area per capita of any city in the US. I love the rivers, the access to beaches, the proximity of places like St. Augustine, Flagler Beach, and Daytona.
St. Augustine is pretty neat. I kind of wish Jacksonville itself had some of its charm, somewhere downtown. We have a lot of park land, and it's probably nice once you figure out what's worth exploring and what's just a piece of unused land with old shopping carts strewn about. The beaches are very good here. Milwaukee had a wonderful lakefront but poor beaches. In California, it was hard to find a way to get to the beach, and public access was kind of discouraged in many places. In Oregon, the beaches were pretty to look at, but maybe not so much for swimming. Out of the places we've lived or looked to locate to, these are nice beaches with a lot of access.
Anonymous wasn't very happy with the crime:
Not good place to raise a family.

I would get a good security system

here and watch your backs because

the criminals are hiding.
Technically, I've seen a lot of the criminals out in the open, at least on video surveillance, often not bothering to hide their faces. I've heard about brazen criminals walking down the streets in groups, breaking into cars. Mind you, I have yet to see this in person, and the stats don't show that it's the worst in the nation.
Tammy, who claimed she was going to leave by 2016 (back in 2015), mentions the traffic:
This city has the worst drivers they dont use their horns dont use turn signals just cut in front of you will not let you merge they just speed up.
While the English teacher in me sees the irony in the author not using contractions and other punctuation properly, I agree about the turn signals. Just as texting has made our use of language lazy, all the specified turn lanes in Jax seems to make drivers lazy when it comes to signaling. Not sure I want more horns, however.
Jeck takes a more pragmatic view of city life:
There are a lot bad reviews,but large cities have some of every thing. I have lived all over the world and seen the good and the bad. You just have to choose your specific place and make the best of it.
I've been to 46 states myself, and I've seen all kinds of American cities and towns. I agree with Jeck on this one. You've got some choices here, at least. Jacksonville may not have the best pro sports or art scene or local bands or government officials, but it's big enough that you can figure out what you like and do it. Get Jags season tickets or get a state parks pass. Buy a boat and ride around all weekend. Get a gun and shoot in the woods or at people peering in your windows.
Maya states what is in some ways very obvious:
People who have bad things to say about the city probably don't live in a good neighborhood. The overall feeling that you get from being in one section of this city is much different from being in the next.
The problem we had moving here was identifying those "good" neighborhoods. It's not just based on how far east or west, and it's not based on housing size. And there are some blocks within nice areas that look run down because of a couple of sassy neighbors with front yard parking lots. My own block has really nice houses, but over 50% are rentals. I'd rather that be a much lower percentage, since I know people tend to care more about their own properties. Moving from out of state, I wish my realtor had been more of a help when it came to identifying good versus bad. I ended up having to drive around neighborhoods for hours on end in order to get a feel for them.
BAS was not able to find work after college at UNF. However, she/he was here from 2001 to 2004, having this to say:
The traffic sucks, the water and power frequently would go out, and the beachside restaurants and bars were too pricey. 3/5 of that city is the hood.
I have to agree that the restaurants near the beach are expensive, but that should be a sign that it's a happening place to be. If you're a struggling college student, there should be bars that cater to your crowd--then again, I have not seen these bars. I am not sure about water and power failures, and I'm saddened that someone who earned a degree in criminal justice wrote that 60% of Jax is the hood...I am sure the residents here are lucky this person is not your parole officer or arresting officer.
Valerie says it's expensive:
This city is so damn expensive, poor quality of life, absolutely no jobs whatsoever! I can't even understand why it is so expensive. It's very expensive to rent.
This may have to do with the military presence. Buying isn't always an option when you have to move around a lot. Anyhow, the housing isn't that expensive if you buy a house. I wonder what the ownership rate is.
Mike is an observant driver:
You can't drive 3 miles in Jacksonville without seeing one, if not all of the following: Sex Toy store, roadside marker of a traffic fatality or a Pawn Shop.
I've never liked the traffic fatality markers myself, but that's barely an issue. Pawn shops, as in any major city, tend to be near the people who might need fast cash. I have only seen one sex toy store with an awful name--I guess I have to watch for more of those.
Mary made a list, and here are a few highlights:
The Town Center has been one the more recent bright spots. Most of the people are friendly and considerate. The Middleburg element adds a redneck mean streak [...]

Hopefully the Jaguars will get some sense and bring Tim Tebow here. That would give the city new energy and excitement.
Everyone loves the Town Center. Whatever, it's an outdoor mall. I do not know what this Middleburg element is, but I guess I better stay away. And this quote is a perfect example why you should never publish sports analysis as part of a comment that will be around for years to come.
Karen had some employment concerns here:
I don't know how Jacksonville expects somebody to make a living on $10.00 an hour, JEA is high as hell, apartments are priced really low compared to other cities but you have to be making at least $30,000 to live here comfortably.
I honestly don't think anyone should expect to live well anywhere for $10 an hour or $20,000 a year, so I agree there. Karen claimed her college degree did not help her get anything better than a janitor job, which makes me wonder if she had a degree in custodial sciences, or art.
John, unlike many of those with comments, really likes his retirement condo near the Town Center:
THERE IS NO STATE INCOME TAX! THERE IS NO TAX ON FOOD! Car tags run around $400 for the first year, after that around $100 a year. I can get a pitcher of Miller at the Ale House for 6.00 all day, every day. We have a winter here in Jan and Feb when the average high is 70 and the low is 45. We had 3 nights at 26 and I put our electric fireplace on 2 nights all winter. September through March are perfect and then it gets warm and then hot in July and August but no worse than Northern Virginia where I came from. The St Johns River flows through the city but the many bridges keep rush hour to a minimum and lasts for about an hour or two at most. There are two Navy bases in the city that helps the economy. We have 5 great beaches here and they are never crowded like our southern beaches like Coco and Daytona. We have professional football and minor league baseball, a soccer team, arena football, even girls roller derby (trust me, it's a hoot). Fishing is great, boating even better, the riverwalk is very chic and the restaurants are so varied and reasonable, you will want to try them all.
Honestly, if you're used to the prices up the East Coast, it totally makes sense to retire here. Take your pension and avoid state income taxes and huge property taxes. John is a great example of why the Jacksonville area should cater to old fogies. They made money in states with much higher costs of living, so get them to spread that wealth around down here.
Lisa wasn't as positive as John about Jax:
The crime rate is higher than NYC's, sometimes topping Chicago's. The schools are awful. I personally listened in horror as the principal of one of the most highly rated high schools in the state, gushed with happiness because 40% of the student body can now read at grade level. The president of UNF described Jacksonville as an "intellectual wasteland". We could not agree more.
I could not independently confirm that the UNF president called Jacksonville an intellectual wasteland, but I assume that any college president who would say that about his/her surrounding community would no longer be the president over there. I think we also need to take the reading-at-grade-level comment with a grain of salt. Cities, states, and our nation are today tasked with educating 100% of the children under 18. At the time of WWII, our country had about 50% of the kids graduating high school. Many of my own ancestors were lucky to have an 8th grade education. I am not ashamed of this. They were farmers and factory workers who toiled so that I could have opportunities. I know there are ivory towers and hypocrisy in education at all levels. That just makes JAX normal.
I am not sure whether it's the drivers, pedestrians, or both, but Kara wants to warn us about pedestrians:
People seem to think everyone owes them something. I have seen someone jay walk across a 4 lane highway, head raised like it would be wrong of me to hit him.
We have aggressive drivers, bold pedestrians, and few stoplights along some stretches, so this is a real problem around here. That said, it WOULD be wrong for you to hit that guy, even if you get off without a ticket.
Pearl, who was heading for a fixed income and therefore moving fro Jax, had this to say:
Housing costs are high for Florida especially if you rent as are the costs of groceries and gas but electricity rates here are killer. If you run you AC at all below 78 degrees plan on a $400 plus electric bill more if the home is not energy efficient. Summers here can get very hot 100 degrees plus and some of the older homes can not even cool below 80 degrees running the AC full time.
My electric bill was the highest in winter (colder than normal this year), not summer, and I have had only one electric/water bill around $400. I thought the cost of living was slightly lower here than in Orlando. Not sure about other small towns in Florida, but have you seen some of those? I do not know the R-value of mold, rust, and insect carcasses, so I suppose some homes are limited in insulation.
Gwen from Toronto, hey, liked the weather:
There are 4 seasons but mild and the "winter" is very short, maybe 2 1/2 months of cold weather. The temperature does drop to below 32 degrees about 10 - 20 nights per year. It is very sunny and bright and the months of Oct and April have generally gorgeous and just magnificent weather.
Seems about right so far, though most people have told us the winter of 17-18 has been the coldest in some time. Gwen was not all rainbows and sunshine, however.
The people are very closed minded. Coming from Toronto Canada, it was a culture shock when I first arrived. It was almost like going back in time the way the people think.
While she didn't provide specific examples of closed-mindedness, we learn specifics about the lack of aesthetics:
Much of the spread out city looks like a baron wasteland of big box stores, car places and parking lots. Roads and public areas are not well maintained and most of the city looks dilapidated and run down. They have overgrown, medians everywhere littered with old yard sale signs and trash. The medians make it harder for drivers to enter businesses and u-turns are required everywhere just to get to for example, into the library.
Of course, she meant barren, not baron. If a baron owned a wasteland, he would not be a very good baron. I agree about the u-turns, kind of. The u-turn to get to the Pablo Creek library is dangerous, and ironically located right next to an auto body shop. That said, I like the
medians
to some degree, as long as they are kept up. Gwen, who claimed to be more culturally aware than the typical resident here, also analyzed race relations:
There is practically no cultural diversity and minorities are disliked and viewed with suspician. This goes across the board

,

neither the blacks nor the whites seem positive toward other nationalities or cultures. The only visable minority other than black are Philipinos who have no real area but are scattered around town. Hispanics are starting to come in but as yet have made no real positive impact to the area.
Ouch, sorry 40,000+ Hispanics in Jacksonville--I guess you're not doing enough. My neighborhood is much more culturally diverse than any place I've ever lived, so I guess I'm in the minority, or else Gwen is critiquing more than just neighborhoods. More about traffic, too:
Bike riding is extremely dangerous. The bike lanes are inches wide and traffic whizzes by at 60 miles an hour. I have personally known several people who have been hit and one co-worker who is completely paralyzed with spinal cord injury after a hit and run while biking in Ponte Vedra, one of the nicer and safe areas. Jacksonville has been determined to be one of the un-walkable cities in the entire nation.
Gwen's got some points here. We live one mile from the kids' school and my wife's work, and we've never walked or ridden bikes. That's sad, and most people here have just accepted it rather than complain or make efforts.
Joshua wrote an absolute novel back in 2011 as a positive comment about Jacksonville. I can't quote too much of it here, but it's on page 3 of the bestplaces.net comments section on Jax. California transplant. Here's a short excerpt:
Deciding to plant roots in a certain part of the world depends on your goals, and your income level. Jacksonville is a perfect place for the first time home buyer on a limited income. The climate is ideal due to the mild winters and no snow to deal with while you commute to work. No road salt to eat away your car like out West and up North [...] You can walk around down town Jacksonville without getting mugged. [...] You got the palm trees but no earth quakes [...] If you like water activities well Florida is your destination. [...] Just like most large American cities Jacksonville has its crime which is mostly contained in the north Jacksonville and north west perspective Jacksonville areas. [...] Jacksonville police are polite. [...] I have rarely seen any issues with Sailors having problems with the local population.
Overall, Joshua seems like he ought to work for the local chamber of commerce. I am glad to hear someone likes it here as much as he does. Maybe he's changed his mind since 2011, but he was definitely on board with Jax being a better alternative to his life in Los Angeles. My wife, who has always wanted to live in Southern California, read this post when we were thinking of Jacksonville, and I think it helped her a lot.
Richard also had positive remarks about Jacksonville:
My neighbors are great and the people in general are friendly. The beach is close, there are several museums and points of interest in the region.
I think the people are friendly here. I like that. My brother-in-law noticed it. I think recent national politics has made some people a bit more angry at others they might perceive to have differing views, but I dealt with that back in Wisconsin, so I can get through it here, too.
Bill from Minnesota had a negative experience:
Being black,college educated and from the north, I was NOT well received by both southern Blacks and Whites.
I read at least two, maybe three, similar comments about being Black and from the North. I can't speak to this perspective or confirm / deny the experiences, but it is something to note.
Bp starts off with a general negative, and then takes it to another level:
Jax is exactly the opposite of anything good, bright, healthy and progressive. [...] It's THE PEOPLE--the ignorant, REDNECK, low-ambition, Confederacy-lovin', KKK-minded social retards which ruin Jacksonville. There is NO chance for Jacksonville to ever exceed its hundred year old inbred culture.
Very ouch, Bp. I guess I figure that if I'm here, the culture has already improved by a little. In fact, we now have a
Poet Laureate
.
Julie thought the area could use some home refurbishment:
Despite the city's efforts to clean up and beautify the streets, poor home care makes you frown as you drive in older neighborhoods that could be charming.
I do not know what efforts were made back in 2011 to beautify the streets, but I agree that no everyone tends to take care of their homes. I met someone in KC who said the further South you go, the less people take care of their homes. She was from Minnesota originally. That was when we were thinking about moving to Florida. In general, we took pride in our nice-looking homes in Wisconsin, even if they weren't mansions. But there were eyesores. I think it's just a higher percentage down here. Plus, it's hard to do housework in the summer in Florida. That said, when I spray painted my mailbox and pole a few months ago, it was a maintenance thing that cost a few bucks and really made a difference, so there are some simple tasks people could do with minimal effort or skill.
Jon was mostly negative, though he had lived here 40 years:
Be fore-warned this city is full of nothing but crime,racial gangs and rednecks and the city's police force is extremely overly aggressive proably out of necessity and a clearly dominant military theme personifies most of the community. at one time as many as 3 military bases were home to the jax area but now there are only 2 after the closing of the cecil field base on the westside several years ago. also it is well documented, the city has enough cops to supply a small army but cannot afford to keep the cities libraries funded and functioning long enough to support even reasonable hours.
We've heard about the crime and rednecks so far, but Jon brings up a good point with the libraries. I'm often disappointed to be reminded the library doesn't open until 1pm on half the days of the week, usually the days I want to go early. When our kids were young and my wife was home, that was a huge benefit for the kids to go any day of the week and at any time. This is really too big of a city to have such limited hours. Jon is a good example of a local resident who could have used more interaction with reading and writing.
That's about all I have right now. Be sure to check out as many sources as you can before moving to a new city, even if you must move there. If nothing else, you might be able to pinpoint the right neighborhood in which to find your home. Plus, it's good to know what to expect. If you're looking to
retire to Jacksonville, click on this link
. If you're thinking about
Nocatee, try this one
. Or anywhere in
St. Johns, have a look
. Here's my take on
Arlington
.